EDIT MAIN


JANUARY

Rachel Pond & Demetri Court - Academics and Leadership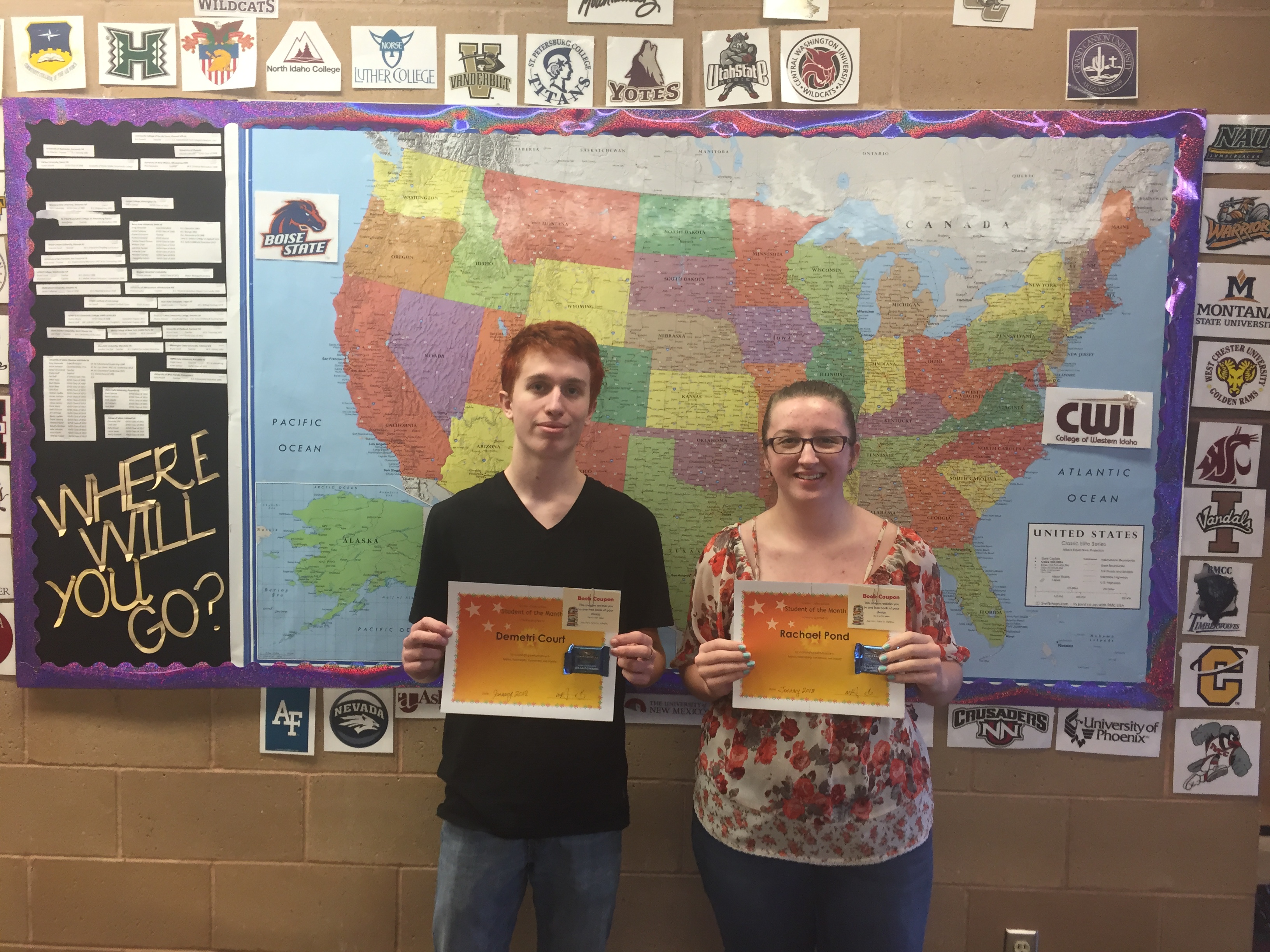 ---
Middle School
Nate Crawley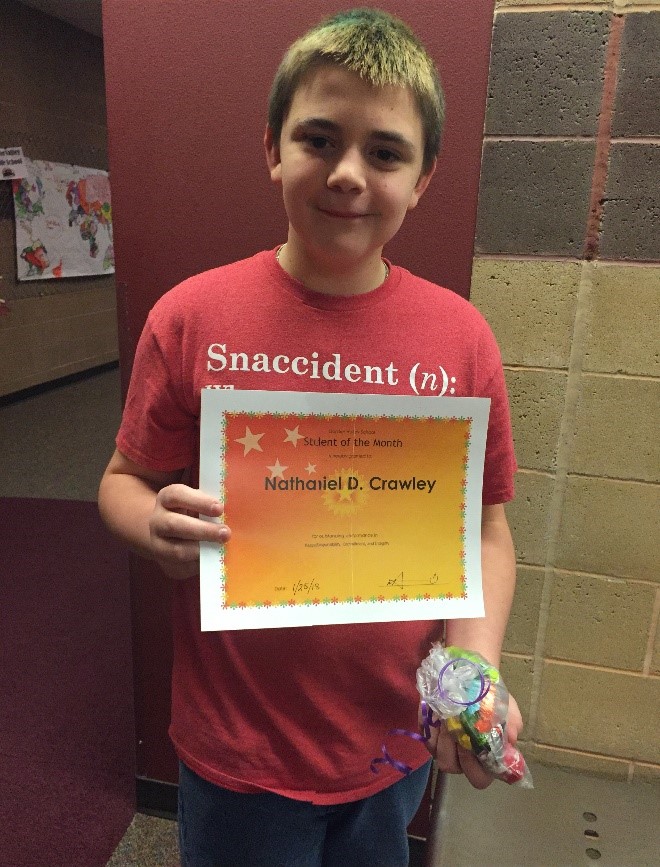 Nate is a 7th grade student and loves playing guitar and drums. He is a kind, warm-hearted young man with a wild sense of humor. The middle school teachers enjoy having Nate in their classes. He is a responsible and highly capable student. Way to go Nate!
Alayna VanDyk

Layne is a 6 th grade student and enjoys reading, crocheting and hanging out with her friends. Sports come naturally to Layne, and she played MS volleyball, basketball and will be running track this spring. She is a sweet young lady and a friend to everyone she meets. Layne is a 4.0 student and takes her education seriously. The middle school teachers are very proud of her and love having her in their classes. You go girl!
---
Athletics
Karley Hodges
Karley is a young player with many talents. She is quiet, but works very hard. Karley has very much improved her game and is becoming a leader on our team. When Karley gets fired up, she brings a large amount of energy and enthusiasm to the floor. I look forward to the player Karley will be in the years to come! - Heather Kelly
DECEMBER

Kateri Koenig and Ty Grigg - Academics and Leadership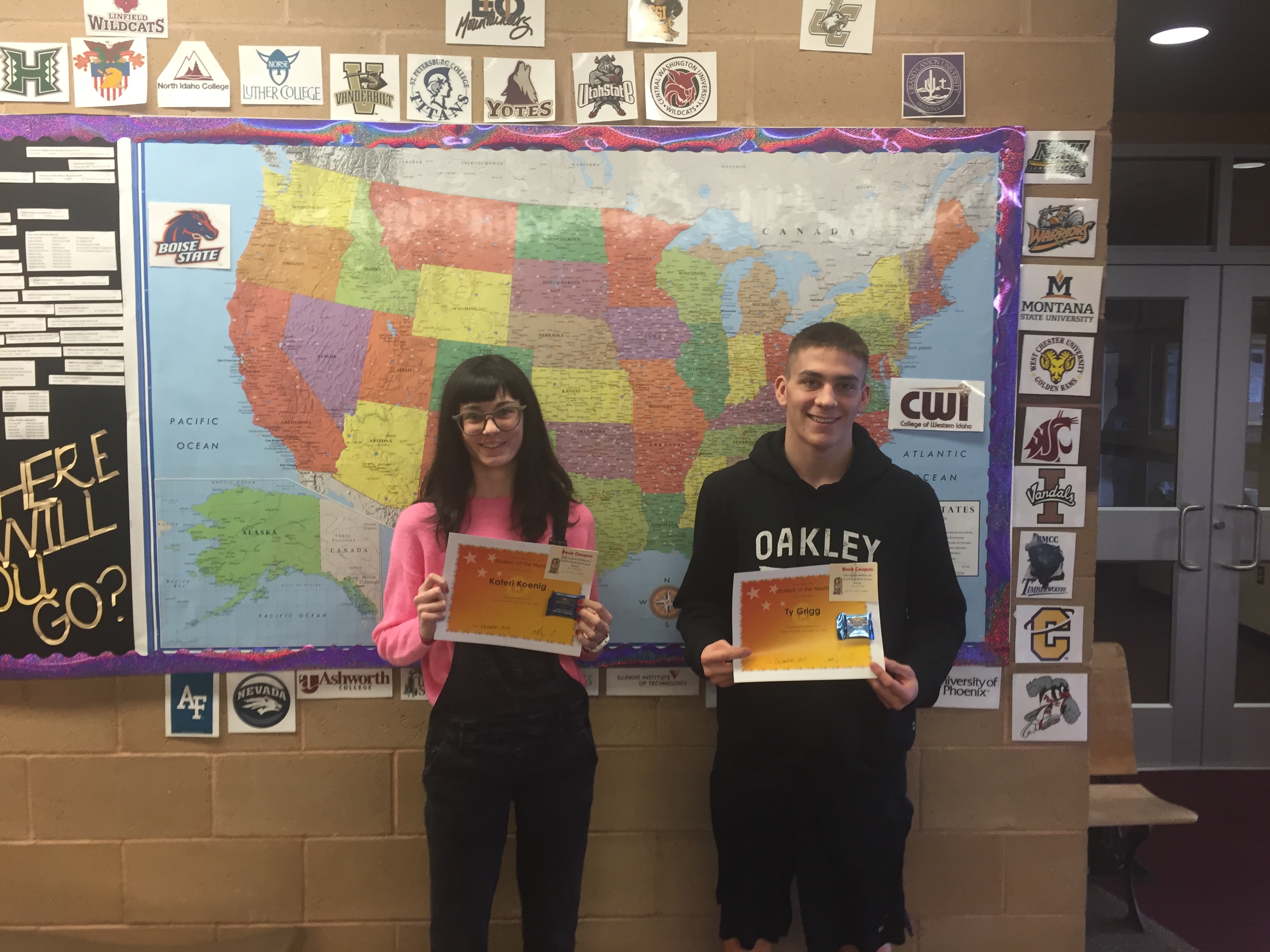 Middle School

Gertie Furhiman
Gertie, a sixth grade student, has earned Student of the Month for December. She is a wonderful student and excels in her classes. She is a great friend and helpful to her peers as well as her teachers. She is polite and is a friend to everyone she meets. Gertie, like her brothers and sister, is an excellent athlete. She loves volleyball and basketball. She has been playing basketball since she was little and even played middle school volleyball and basketball as a 5th grader. Gertie is fun to be around, her laugh is contagious, and we thoroughly enjoy having her in our classes.
Gracie Castillo
Gracie has been awarded the Middle School Student of the Month for December. Gracie is a seventh grade student who is currently taking three high school classes and four eighth grade classes. She excels in Math and is taking Geometry with Mr. Haworth. She is a talented musician and has the voice of an angel. Gracie loves to play basketball and is an animal on the court. She is very quiet and respectful, as well as responsible and reliable. Gracie loves a good challenge and pushes herself daily. All of us in the middle school are very proud of her and expect her to do great things in the future.

Athletics

Santi Winslow - Wrestling
Santi Winslow placed 3rd in the Mountain View Invite in December. This is a big feat for a 1st year wrestler wrestling in a 3A tournament.

Khanyisa Morgan - Girl's High School Basketball
The December athlete of the month for girl's basketball is Khy Morgan. Not only is she a great athlete, she is motivated to get better and works hard to help others do the same. Khy is a high scorer, a strong ball handler, and is a great teammate. Khy inspires her teammates to give 100% and I am proud of the way she lifts the underclassman. I look forward to the great things she will do in LIFE!

Darell Lindstrom - Boy's High School Basketball
Darell has spent the first part of the season learning a new position and has taken to the grind of playing the post with enthusiasm. Having spent the first three years of his basketball career at guard, Darell is transitioning beautifully. Statistically, Darell is contributing on the offensive end through offensive rebounds and put backs and defensively you will find him battling the opposing teams' big men. He is also contributing to the team chemistry through vocal leadership and a dedication to his teammates.
November
Sydney Morris - High School Basketball
Sydney has displayed a very hard work ethic. She is one of the newest basketball players but her hustle and a determination make her stand out amid the crowd. Sydney is fun to be around is a great leader and is also a team captain. Sydney creates many steals during the games and also has started to rebound very well we look forward to all Sydney will do this year in basketball. You are a great example Sydney!
Grace Thompson - Middle School Girl's Basketball
Grace has a positive attitude. Always puts forth great effort and is consistently willing to work hard without complaint. She has the desire to improve and shows that in her work ethic.
October
Luke Ptomey
Luke is bright, works to be prepared, and has a very challenging schedule. Other students look to Luke for help when struggling with difficult concepts. He is like a student "professor" in math...other students visit him for "office hours." Luke also works hard: he doesn't just do what comes easy to him, but sets his sights beyond his current abilities.
Lydia Shultz
Lydia is 'present' in this school. She has a college schedule, is preparing for her future and does a bunch of things to help her community, such as MS Volleyball practices at 6:00 am and then she plans to help with MSBB practices as needed. Lydia is a leader on the court, helping to build her peers up as a team and in the classroom. Lydia recently came to the revelation that she does not like "Young Lydia", and she strives to be a better person.
---
Middle School
Shelby Smith
Shelby and her family moved to Garden Valley this year from Tennessee, and we are so happy they did. Shelby is a 7th grade student and is one of our students of the month for October 2017. Not only is Shelby an excellent student, but she is a great person, and has a wonderful sense of humor. She is helpful to her peers, friendly, and an all-around sweet person with a darling southern accent. Being raised in the south, she is chalk full of "yes, ma'ams" and "no, sirs". Her politeness and formality is a breath of fresh air to the classroom and her positive attitude is welcomed by all of her teachers. We are glad you are here Shelby! Keep up the great work!
River Hughes
River is the daughter of our very own music teacher, Mrs. Kelly Hughes. She was born and raised in Garden Valley and is now in the 6th grade. River is well deserving of this honor: she is an amazing student, talented musician, and wonderful person in general. She is always trying new things and challenging herself. In her spare time, you can find her reading a book, playing an instrument, or crocheting a bag, scarf, or other crafty item. The middle school teachers are very proud of River and all she has accomplished. Congratulations River! Nice Job!
---
Athletics
Ty Grigg - Cross Country
Ty was recently our top performer at the Districts III meet, running a personal record of 20:02 and placing 28th overall. Ty has made huge improvements in his 5k time this season. His first 5k time was 24:30 compared to the 20:02 at the districts meet. Ty is always a consistent, hard worker. He never complains, gives 110% every day at practice and is a great role model for his teammates. Not only does Ty work hard in practice but he does above and beyond what is asked. Ty also lifts weights after practice or in his free time and has been preparing for wrestling season. He strives to be the best in all areas of his life, Ty is an excellent student, positive role model and an very exceptional athlete.
Khanyisa Morgan - High School Volleyball
Khy was elected team captain by her team mates and helped set high expectations for the team in both play and attitude. Her leadership and positive talk on the floor was very helpful and inspirational. She did a great job both offensively and defensively. Offensively, she contributed ace serves, kills and blocks. Defensively, she was the top serve receiver eight times in September, as well as, being one of the top three "diggers" in over half the games.
Sydney Morris - High School Volleyball
Sydney played on JV last year. This was only her second season of volleyball. She proved herself early on by being extremely coachable, self-motivated and competitive. She led the team in ace serves five times in September. Defensively she did an excellent job digging and receiving the ball. She learned to read the ball and cover her hitters and blockers. She became very adept at digging up the other team's short court tips and hits. Sydney worked to improve every game and every practice. By the end of September, she had proven herself an important part of the varsity team. Her skill level and personal expectations were far above and beyond that of a second year player.
September
Caleb VanDyk - High School Cross Country
Caleb has improved his 5k time on every cross country race this season. His most impressive performance so far has been a personal record at the We Love Hills cross country meet in Payette. From the gun, Caleb put him self up with the front runners on a very hilly course. He pushed himself the entire race, never gave up, and still earned a personal record and finished 3rd overall as a sophomore behind 2 seniors in that race. It was a hot day on a hilly, dusty and dirt course, but Caleb still pushed himself the entire time. He is a hard worker, never complains and pushes himself every single day, even when conditions may not be perfect. He is more importantly a positive member for others on the team, others look up to him because of his hard work and accomplishments. He encourages and motivates his teammates and runs with them even if his pace is sometimes faster than theirs.
Darell Lindstrom - High School Football
Darell has worked hard to make his team better on and off the field. He has improved his and his fellow teammates game by pushing practice to a high level. Darrell has become one of the top statistical leaders at QB in our league and is a feared defensive lineman. Also, Darell has been tutoring a struggling player to help him remain eligible. Darrell has shown great leadership abilities and is very deserving of this award.