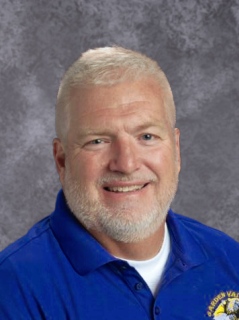 Welcome To Garden Valley School District!
I am excited to be the superintendent of schools for the Garden Valley School District. My wife Lori and I recently moved to Idaho from Georgia. We have been spending our summers in Garden Valley for the last 6 years, and have been visiting Garden Valley off and on for the last 20 years or so. We have some very dear friends in Garden Valley that introduced us to this lovely part of Idaho back in 1999, and we have been coming back ever since.
We are the parents of 3 children and we have two grandchildren, all living in Georgia except for our middle son who also lives in Garden Valley. Lori is a retired educator of 31 years in Special Education. She spent 14 years in the classroom and 17 years as the Special Education Director in the school system back in our hometown of Cochran, Georgia. We are country folk (as we would say in GA), both of us grew up in a small, rural county in middle Georgia. Our school system there has about 2,900 students. It's larger than Garden Valley, but still has a lot of the same attributes and characteristics that you find in small, rural America. Education is a second career for me. I spent 25 years in the Insurance Industry with GEICO insurance. The last 10 years or so I was a Regional Claims Director in charge of the Midwest Claims Operations over a Region of 11 states, with responsibility for approximately 500 employees, a yearly operating budget of over $25 million, and yearly claim payments in the $300 million range.
I enjoyed management and leading and directing people, especially when they were successful. BUT, I always wanted to be in education. I was always jealous of my wife and the joy she had in her education career. So, in 2015 at age 50, I took early retirement from GEICO and started teaching Business Education and Spanish at our local high school in Cochran, GA. I absolutely loved teaching and being in the classroom. I especially treasure the relationships I formed with the students. I also coached football, basketball and track. I decided to work on a post-graduate degree in teacher leadership and just completed that degree this past summer. For the last 5 years or so, my former superintendent in GA had been asking me to get into administration. I kind of wanted to get back into a management role, but I also was very comfortable teaching and absolutely loved my interactions with the students. Then, on our yearly summer trip in our motorhome to Garden Valley in 2021, I became aware of the superintendent's opening. We had planned to eventually retire to Garden Valley 10 years or so from now when I finish my work life and we saw this as an opportunity to go ahead and establish some roots here. I was fortunate to get the job and we are ecstatic to be "Idahoans" now. I hold a Bachelor's degree in Human Resource Management, a Master's in Business Management, a Master's of Education in Teacher Leadership, and I currently pursuing an additional Specialist Degree at the University of Idaho. I look forward to many successful years in my role leading the Garden Valley School District.

Superintendent, RANDY THOMPSON
Superintendent